The Most Precious Act of Love For Your Skin
X115® anti-agE SYSTEM
Highly effective anti-aging nutricosmetics
"IN & OUT" Synergy of action
Science of beauty. At the highest level
Designed in Italy with the aim to reproduce the anti-wrinkle effects of Botox and Filler injections, and priced affordably and without the risk of side effects, the X115® Antiage System is the result of an anti-wrinkle cosmetic and two anti-aging supplements contained in a single product.
This innovative solution penetrates much more deeply than most creams and supplements when used alone. It provides the body with anti-aging active ingredients in much higher concentrations, both from inside and outside.
A healthy diet, by itself, may not be sufficient to bring appropriate concentrations of nutrients to the skin. Alternatively, cosmetics alone are not 100% effective because they only penetrate the exterior skin barrier.
Pursue excellence on both fronts - dietary and cosmetic - and then amplify the benefits by providing high concentrations of synergistic active ingredients, both from inside and outside.
Proven by Science. Confirmed by Skin Experts
The naturally produced protein collagen, makes up more than 70% of our skin's structure when we are young. Collagen keeps skin firm, dense and resilient—also known as 'young and healthy'.  
The skin's aging process causes a drastic reduction in the collagen synthesis rate. Consequently, the skin is no longer able to offset the damage caused by enzymes that subvert the normal structure of collagen, which in turn fragments and subtracts thickness and firmness from it.
In some studies, it was shown that in elderly skin (> 80 years) the synthesis of collagen is about 70% lower than in a young skin (18-29 years), while the concentration of collagen is less than about 50 %.
In a clinical study performed in Ferrara (Italy), the X115® Combined Treatment "IN & OUT" resulted in an increase of 24% collagen density in just eight weeks, accompanied by an increase in hydration (+ 12%) and a positive trend towards improvement in skin elasticity.
X115® is therefore able to give back to mature skin a significant percentage of the structure, hydration and compactness lost during aging.
More Informations About X115® Anti Aging Supplement
More Informations About X115® Anti Aging Cream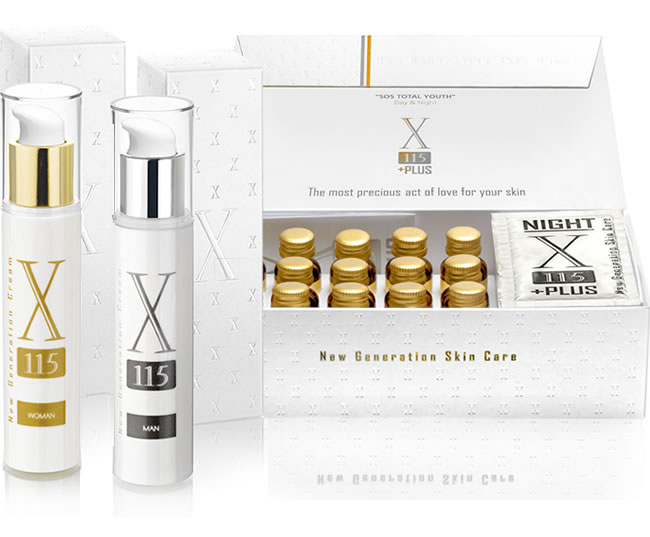 Often, when evaluating the effectiveness of an anti-wrinkle treatment, people are misled by artfully retouched photos that magnify the effects of yet another miraculous treatment.
Most of the time, these products disappear from the market as soon as the word-of-mouth of disillusioned consumers exceeds incessant advertising, thereby leaving room for next anti-wrinkle products or the new illusion of eternal youth...
In such a context, where the effectiveness of marketing campaigns takes precedence over the actual effectiveness of anti-wrinkle treatments, X115® is proposed as a valid and effective solution to premature skin aging and wrinkles, and is scientifically proven to produce noticeable results within a few weeks.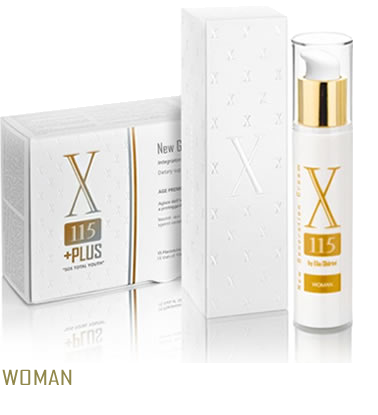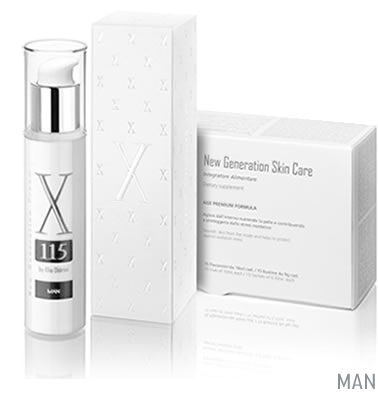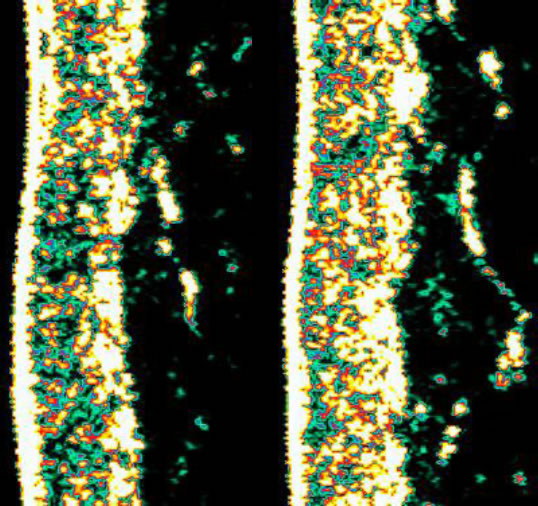 The picture shows the state of the dermis before (left) and after eight weeks of using the anti-wrinkle treatment with anti-aging X115® system (right).
The most densely colored regions reflect increased collagen density, while low echogenic areas (black or green) indicate a less compact and more damaged dermal structure.
There is a clear improvement in skin quality and density after only 8 weeks of anti-aging treatment. The result is a reduction of wrinkles and visibly smoother and firmer skin.
BUY X115® New Generation Antiage System