The Most Precious Act of Love For Your Skin
anti-WRINKLE creams
Maximum Expression of Anti-Aging cosmeceuticals
X115 New Generation CREAM
Powerful and revolutionary, the "S.O.S. formula" is a complete and effective product in the fight against the signs of aging.
X115 utilizes a powerful interaction of anti-aging ingredients that act on multiple levels to protect, nourish and repair tired, stressed, dehydrated and wrinkled skin. When used properly, the face appears more toned and finds its natural contours while skin is left visibly denser.
BEAUTY, IN A SINGLE TOUCH
X115 offers two distinct formulas, male and female, to suit the different needs of female and male skin.
Used in combination with Anti-aging X115® supplements, it can also eliminate the need to use multiple cosmetic products for skin care.
This combined approach, nourishing the body from the inside and outside, allows you to go beyond the limitations of creams and supplements when used individually. Instead, it provides your body with anti-aging active ingredients in much higher concentrations, both from inside and outside.X115® ANTI-AGE CREAM WOMAN X115® ANTI-AGE CREAM MAN
X115® Antiage System
"The normal diet alone may be unable to provide the skin with appropriate concentrations of the nutrients it needs to stay young..

"Similarly, cosmetics alone are not effective, because of the limitations of the skin barrier
Pursue excellence on both fronts - dietary and cosmetically - and then amplify the benefits by providing high concentrations of synergistic active ingredients both from inside and outside..
Thus it was born X115® Antiaging System, a new generation nutri-cosmetic treatment.
Proven by Science. Confirmed by The Skin.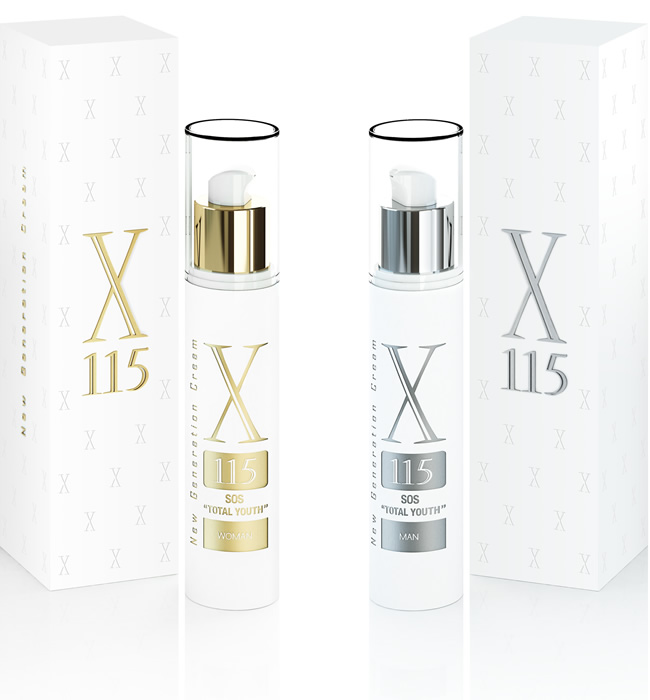 X115® New Generation Cream:
Supports and stimulates skin cell renewal
Relaxes and fights wrinkles from expression
Strengthens and deeply moisturizes skin
Revives and invigorates tired skin
Neutralizes free radicals
The active ingredients of X115 do the following:
counteract the action of free radicals and oxidative damage they cause;
inhibit the action of enzymes that degrade the dermal collagen fibers;
stimulate collagen and elastin production by fibroblasts;
restore the proper water and lipids content in the skin;
temporarily relax the facial mimic muscles, for an immediate lifting effect.
AVAILABLE IN AIRLESS BOTTLES AND SINGLE-DOSE
Our airless bottles are part of an innovative cosmetic packaging system that prevents outside air from contaminating the product. This minimizes the use of preservatives and provides protection for ingredients that require a condition as stable as possible to avoid the degradation phenomena.
The Airless system protects valuable ingredients found inside of X115® from deterioration, even during delicate times such when in transport, or during high temperatures or high humidity.
Buy X115® Anti Wrinkles Cream

X115® Woman New Generation Cream
NOURISH AND PROTECT
X115® New Generation Cream contains nourishing substances such as Argan oil, Shea butter and avocado in an unspecifiable portion.
Acai oil, thanks to its content of high unsaturated fatty acids, has regenerative properties for the skin.
Cholesterol helps restore the protective lipid layer of the skin as well.
SMOOTH AND SILKY
The formula contains texturized agents that give the skin a soft and silky touch.
In addition to reducing skin imperfections, we've also inserted an active ingredient that creates a soft-focus effect, which is able to modulate the light in a similar way.
These soft-focus substances are able to change the visual appearance of your skin immediately, giving the area you've applied the product to a beautiful glow.
ANTIOXIDANT PROTECTION
We use ingredients with antioxidant activity because they play a fundamental role in eliminating free radicals which occur as a result of various environmental factors (UV radiation in particular).
X115® New Generation Cream contains Vitamin C, Vitamin E, Vitamin E acetate, lipoic acid and Vitamin A.
MORE MOISTURIZED SKIN
Hydration is essential to ensure toned and bright, healthy skin. In our formula, there are several substances capable of binding water present in the epidermis, such as panthenol, allantoin and hyaluronic acid.
BOTOX LIKE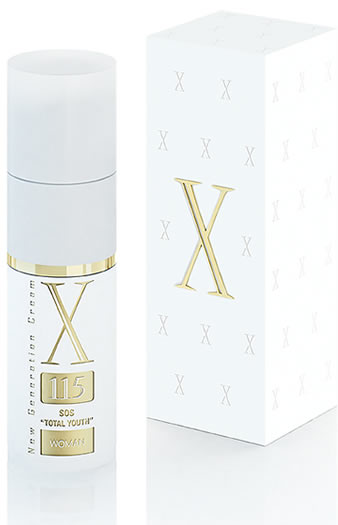 Mimic muscles in our face are the primary cause of wrinkles as we age..
For immediately smooth and relaxed skin, and to reduce expression lines, our formula includes: gamma amino butyric acid (GABA), Acetyl hexapeptide-8.
FIGHTS AGE SPOTS
One of the side effects of aging is skin hyperpigmentation.
For this reason, the X115® Cosmetic Formula contains Melanostatine 5, an active ingredient with super-fast results.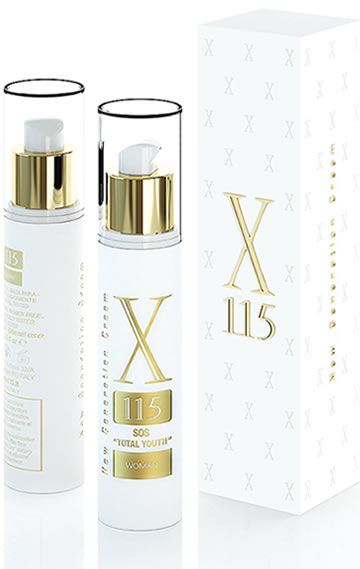 HYPOALLERGENIC FORMULA
Formulated to reduce the risk of allergies
Dermatologically Tested
Tested for the presence of ingredients and certified to be Paraben Free, Gluten free, Fragrance Free, Low percentage of preservatives, all thanks to our innovative packaging of single-dose vials and airless containers.
Ingredients
Aqua [Water], Phenyltrimethicone, Glycerin, Propylene glycol, Glyceryl stearate, Caprylic/capric triglyceride, HDI/trimethylol hexyllactone crosspolymer, Butyrospermum parkii butter [Butyrospermum parkii (Shea butter)], Silica, Arachidyl alcohol, Argania spinosa oil [Argania spinosa kernel oil], Ascorbyl tetraisopalmitate, Euterpe oleracea fruit oil, Persea gratissima oil unsaponifiables [Persea gratissima (Avocado) oil unsaponifiables], Steareth-2, Tocopheryl acetate, Aminobutyric acid, Behenyl alcohol, Tocopherol, Dimethicone, Panthenol, Cholesterol, Ethylhexylglycerin, Phenoxyethanol, Arachidyl glucoside, Hydrolyzed hyaluronic acid, Retinyl palmitate, Helianthus annuus seed oil [Helianthus annuus (Sunflower) seed oil], Allantoin, Carbomer, Thioctic acid, Lecithin, Dextran, Nonapeptide-1, Ascorbyl palmitate, Citric acid, Triethanolamine, Acetyl hexapeptide-8
BUY X115® Woman New Generation Cream
X115® MAN New Generation Cream
THE MOST SUITABLE CREAM FOR MEN'S SKIN
X115® New Generation Cream has been designed and produced in two distinct formulations to suit different needs of female and male skin.
The two products are interchangeable. The male version is designed for oily skin, but women who suffer from the same condition may use it as well. Similarly, men who experience dry skin may wish to use the female version of the product.
X115® cream for man
X115® New Generation Cream for men is an emulsion-gel with a light texture and designed for rapid absorption.
It contains squalane, which provides a protective barrier for the skin and restores the lipid film that regulates TEWL (Trans epidermal Water Loss), providing hydration for the deepest layers of the epidermis.
In addition, to mitigate any skin imperfections, a soft-focus effect has been utilized to modulate light homogeneously.
The content of molecules with antioxidant activity is justified by the fundamental role played by free radicals in all the processes of extrinsic aging due to environmental factors (UV radiation in particular). For these reasons, the formula is particularly rich in: Ascorbyl Tetraisopalmitate, Vitamin E, Vitamin A palmitate.

Hydration is essential to ensure toned and bright skin. That's why the X115® formula was enriched with substances capable of binding water present in the epidermis, such as panthenol, allantoin and hydrolyzate hyaluronic acid.
Mimic muscles in the face are mostly to blame for the formation of facial wrinkles. To immediately smooth and relax the skin, while reducing expression lines, our formula contains gamma amino butyric acid (GABA), and Acetyl hexapeptide-8..
Ingredienti
Aqua [Water], Dimethicone, Cetearyl isononanoate, Glycerin, Squalane, HDI/trimethylol hexyllactone crosspolymer, Ascorbyl tetraisopalmitate, Phenyltrimethicone, Silica, Hydroxyethyl acrylate/sodium acryloyldimethyl taurate copolymer, Caprylic/capric triglyceride, Tocopheryl acetate, Aminobutyric acid, Panthenol, Butyrospermum parkii butter [Butyrospermum parkii (Shea butter)], Tocopherol, Ethylhexylglycerin, Phenoxyethanol, Hydrolyzed hyaluronic acid, Retinyl palmitate, Helianthus annuus seed oil [Helianthus annuus (Sunflower) seed oil], Acrylates/C10-30 alkyl acrylate crosspolymer, Allantoin, Polysorbate 60, Triethanolamine, Acetyl hexapeptide-8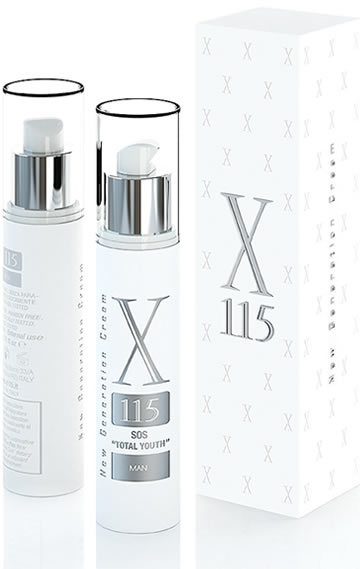 HYPOALLERGENIC FORMULA
Formulated to reduce the risk of allergies
Dermatologically Tested
Tested for the absence of nickel
Paraben Free
Gluten free
Fragrance Free
Low percentage of preservatives, thanks to packaging in single-dose vials and airless devices
BUY X115® Man New Generation Cream